The differences between American beech and European beech lumber
The beech tree is a deciduous tree. Beech wood has many local and commercial applications including flooring, boat construction, chests, furniture, lorries, musical instruments, plywood, and much more. Therefore, it is important to distinguish between American beech lumber and European beech lumber, although they originate in a common family each of them has different uses. Here is a short comparison between the American beech wood and the European beech wood lumber
Differences between color and appearance
The color of the American beech lumber varies from cream to pink or brown. The American's plywood is darker than the European one, mainly because of the preparation process carried out with steam, which gives the wood a golden tinge. The color of the North American beech tree is generally more inclined towards reddish brown and has often a wider range of colors that give different variations between the wooden boards.
On the other hand, the European beech lumber has a light cream pink or brown color. Like the American Beech, the steam process gives the beech wood lumber a yellowish hue, but during production, the veneer comes out much darker. There is also a wide range of European beech trees known for their various orange hues.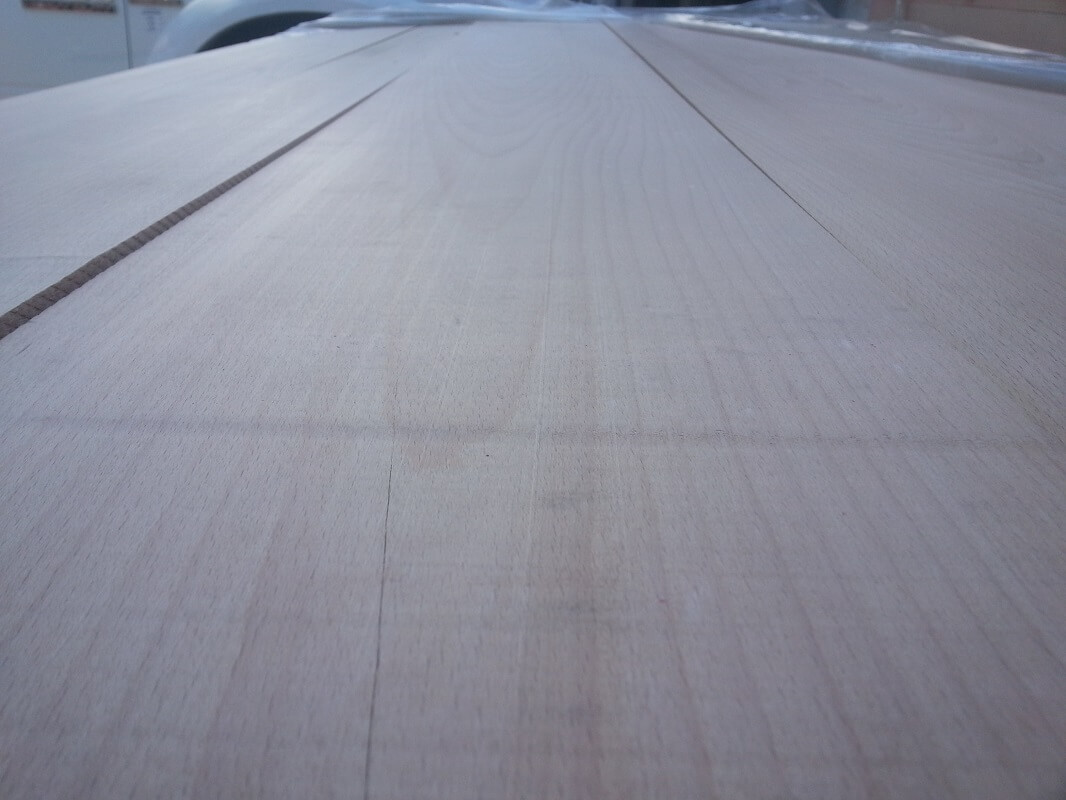 The difference in quality between the European and the American
The properties of both types are very different during production and processing.
The American beech is very good for processing. It responds very well to different adhesives and is most convenient to planing.
It also works better in steam treatments used mainly to produce profiles or bend elements.
The wood has particularly good stability and ease, which are expressed in the process of design and production of various wood products. In addition to American wood is the most ideal to produce small objects.
In contrast, the European wood is ideal for flooring, especially since it is resistant to erosion and remains part of repeated friction in high traffic areas. It responds to better processing in a variety of machines, responds well to evaporation treatments, and is one of the best woods to absorb shocks and blows.
As we have noted, the two trees are very good when they are processed by specialized machines, but they are most difficult to process by various manual tools.
Differences between tree grains
The grains in American beech wood are much more honest and closer than the European beech tree.
The grains in European beech are also straight, but their texture has a much wider range of colors than the American, so the tree usually has a more natural glow.
Common Uses
The American beech lumber is best for wooden objects, musical instruments and smaller wood products. Mainly because of its toughness and its maximum compactness.
European beech lumber is best for home furniture and for interior decoration purposes because it gives a more qualitative and pleasant shade.
Differences in price
American beech wood lumber is widely available and comes at reasonable prices all over America. It can be the best substitute for replacing other hardwoods such as Maple, thanks to its toughness and high density.
The European beech wood is widely available in all European regions, especially in the Balkans, and can be obtained at lower and more competitive prices than other wood varieties.
The American beech lumber is sometimes misunderstood and even treated with scorn. It may be because of its typical appearance, but when it comes to features such as hardness and strength along with low price, the beech lumber brings the best value to its price.
European wood is the most important commercial tree throughout Europe. Mainly because of its resistance to wear and tear, its strength, its hardness, its qualities, its great bending options and above all, its low price compared to other hardwoods. Together, these make it the best choice among the European wood industry.
Looking for a wood supplier?
For more information and additional quotes, consulting or partnership Do not hesitate to contact us
click here to contact us